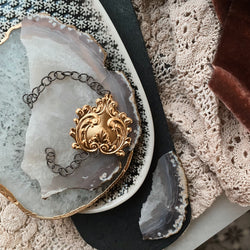 Guilded Grey
Cuff #111
A layer of 22K dipped matte gold to wear alone or stacked with another strand. A luxe feel to pair with your warmest sweater. 
22K dipped French motif (sourced from a Paris metal factory) and antique silver chain.
Measures 7-8 inches. You can adjust by hooking the clasp farther into the chain.
We love it paired with the hand-selected pieces shown below.
Handcrafted in studio
Free shipping